The more we chatted, the more we fell in love for each other!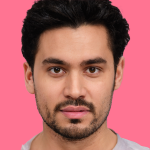 Why does it happen that some couples who are unknown to each other for their entire lives suddenly fall in love after meeting with one another just like in any other normal long-term relationship? Well, this exactly happens with Neha and Lovejeet, who believes in each other.
As soon as they were introduced to each other through NRI marriage bureau for the first time, it looked like they are already familiar to each other for ages.
After meeting with each other for the first time, it looked like they have found their true love that has converted into a successful married life. But when we asked them to share their experience or some unique secrets for their healthy relationship, they didn't hesitate even once and revealed everything to us.
When Neha and Lovejeet first met, they hardly knew that they are going to become successful life partners. Yet, both of them looked quite optimistic and luckily it worked well in the end.
The coupled revealed that matrimonial wisdom should agree for some major life decisions. Also, they need to make sure that they are just like any other human being and should learn the ways to tolerate each other's habits, behaviours, and quirks.
At the same time, they also revealed that whenever they felt like having a fight, they took it too rationally and even discussed about their respective feelings about love and money.
However, the coupled stressed the need of communication which happens to be a crucial aspect for a healthy relationship. Other than that, they both tried to give their entire attention to one another.
How Neha and Lovejeet created history at nrimb.com in becoming one of the most lovable partners- Read the full coverage
It all happened when Lovejeet came across Neha's matrimonial profile on nrimb.com. Luckily, Lovejeet found her profile way too impressive and he instantly decided to take it forward. At this time, he tried to connect with Neha by giving her a friend request. It took 3 days time for her in accepting his request.
After she accepted Lovejeet's request, they both started chatting with each other. Initially, they were resistant to each other but then gained momentum very soon.
The couple revealed that "The more we chatted, the more we felt like falling in love for each other". It was well over 3-4 months time they took in knowing each other comfortably. And this was when Lovejeet realized that she is going to be his ideal life partner.
After a series of online chat, Lovejeet decided to start making calls to Neha that resulted in conveying their views through phone calls on different topics. This was to better understand each other. They discussed on different topics and issues.
This was the time when Lovejeet decided to visit Neha's hometown in order to meet her in person. As soon as he reached to her hometown, the reaction he received was almost instant, as he had to meet her in the presence of at least 15 of her family members.
But even then, the meeting was successful and it was like everything was going on the right track. He got a feeling that her family members also liked him.
During their meeting, both exchanged a few words and expressed gratitude towards each other in the presence of their family members.
Soon after that, Lovejeet and Neha went out for a short ride. This was the moment when he again got a feeling of finding his desired life partner. Now, what's next?
Lovejeet asked her consensus on marriage and she agreed. She was a well educated and good natured girl that he was actually looking for. Finally, they both decided to tie the nuptial knot at her hometown only.
Now, no one believes that it was in fact, an arranged marriage. Even now, it looks like they are made for each other. But no one knew that they will be meeting at nrimb.com and will tie the knot almost instantly as if they were looking for each other.